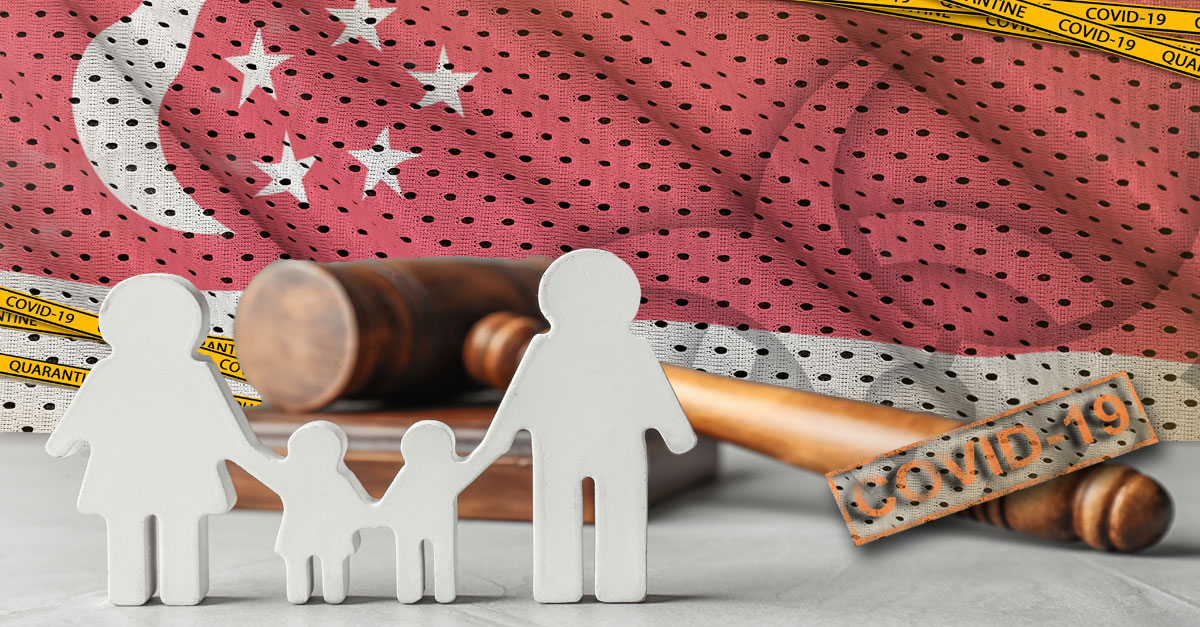 Families everywhere are trying to come to terms with the impact the coronavirus is having on their lives.
For couples who are separated or in the process of divorcing, the pandemic raises very specific questions and concerns–and few concrete answers.
The situation is ever-changing, but here are a few ways the coronavirus may impact the lives of separated or divorcing families as of this writing.
Courts Cases
The Family Justice Court is still open and operating as of this writing. If you have a matter pending before the Family Justice Court, your case will likely proceed.
However, according to Chief Justice Menon, all practitioners, court users, and visitors must complete a declaration form before they are permitted to enter the court building.
You will not be allowed to enter the courthouse if you are serving a quarantine or stay-at-home notice, have been exposed to someone with a confirmed or suspected COVID-19 infection within the last 14 days, or have traveled internationally or lived with someone who traveled abroad within the past 14 days.
If you have a family law court date and believe you will be barred from the courthouse under these circumstances, you should speak with one of our Singapore family lawyers as soon as possible.
The case may be postponed, or you may be able to make an appearance via videoconference.
Custody and Visitation
Custody orders can be challenging to stick to in these situations.
Parents who are under quarantine or a stay-at-home notice, have traveled internationally, or may have been exposed to the coronavirus, should minimize risk to their child and discuss alternative custody arrangements with their co-parent until the danger has passed.
If you cannot have a reasonable discussion with your co-parent and you believe that adhering to the custody order places your child at heightened risk to the coronavirus, talk to one of our child custody lawyers to discuss your options.
Remember that you do not have the right to change the terms of your custody or visitation order unilaterally. Both parents must consent to any change unless the family court modifies the order.
Related Article: Coronavirus and Child Access Arrangement Issues
Domestic violence
A terrible consequence of social distancing and stay at home notices is an increase in domestic violence.
In Singapore, the women's equality group Association of Women for Action and Research (AWARE) reports a 33 percent increase in Women's Helpline calls in February 2020 over calls received one year ago.
Anyone experiencing domestic violence, even if in isolation or under a stay-at-home notice, should reach out to a family lawyer or hotline for help as soon as possible. Social distancing does not mean that anyone must endure violence and abuse.
Valuation of matrimonial assets
If you're in the midst of a divorce and seeking to divide property equitably, you may find that the value of your matrimonial assets has changed given the recent plunges in the stock markets and decreases in real estate holdings.
Divorce lawyers at Gloria James-Civetta & Co can help you verify the value of your assets and discuss with you whether you will need to readjust your position or requests in light of any substantial changes.
Related Article: Coronavirus and its Impact on the Division of Matrimonial Assets
"At Gloria James-Civetta & Co, our goal is to help you find a resolution that works for both you and your family. When you contact our matrimonial law team, we will provide you with a consultation, tailored to your specific circumstances and goals in mind"