Fixed Fee Uncontested Divorce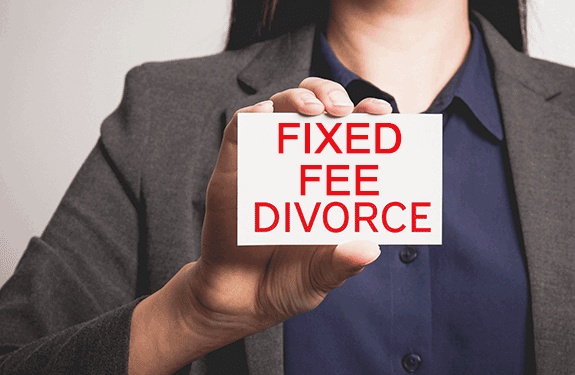 At Gloria James-Civetta & Co, our  Fixed Fee Uncontested Consent Divorce settlement packages are tailored to meet your needs and budget. (Available to Singaporean citizens and Singapore Permanent Residents only)
You will pay no more than;
$1500 (no property or children)
$2500 (with children, maintenance and HDB/Private Property)
You And Your Spouse Need To Agree On:
The grounds for divorce
Division of matrimonial assets (HDB/Private Property, CPF monies, savings, pensions, insurance, and other ancillary matters)
Issues involving the care and control of children
Maintenance arrangements for wife / children
Package 1$1500

Package 2$2500

With Children
Maintenance
HDB / Private Property
Both Packages Include:
Taking Instructions

Collecting Documents

Drafting Divorce Papers

Statement of Claim
Statement of Particulars
Writ of Divorce

Memorandum of Appearance
Acknowledgement of Service


Preparing setting down papers for Uncontested Divorce

Simplified Divorce Form

AEIC for Divorce

Requesting for Divorce Hearing Date

Extracting Interim Judgement

Extracting Final Judgement
Package 2 FREE Add-ons:
Standard Query Form to HDB
Parenting Plan
Property Plan
Terms of Settlement Document
WHY PEOPLE CHOOSE US
Gloria James-Civetta & Co, has one of the largest teams of divorce lawyers in Singapore.

Our specialist family law team is trained by the Singapore Mediation Centre for Dispute Resolution.

Head family lawyer, Ms Gloria James has more than 22 years' experience in handling divorce cases and family law proceedings.

Collaborative Family Practitioner

Appointed Child Representative LawyerFamily Justice Court

Parenting Coordination Lawyer

Associate Mediator of the Singapore Mediation Centre and PDRC

MediatorFamily Justice Court & SMC Family Panel

Certificate-in-Mediating DisputesHavard Law School

Certificate-in-Mediation Skills ADRRegent's University London
Our firm Specialises in Divorce
FREE Initial Consultation
Large team of Lawyers & Paralegals ready to assist you
Fixed fee Packages inclusive of GST with Flexible Payment Plans
Fast & Reliable Service
Once we have received your inquiry, a member of our Family Law Team will contact you by phone or email. If you have any inquiries about the consent divorce process, or if you're unsure of whether a fixed-fee package is right for you, please get in touch with our friendly legal team.